Renal pharmaceuticals
SORBISTERIT
Sorbisterit is used in the treatment of hyperkalemia (raised blood potassium content), in patients who have kidney problems and those on dialysis (removal of waste products from the blood).
1 sachet (15 g powder) contains: 14.62 g calcium polystyrene sulphonate 1 g Powder contains: 0.975 g calcium polystyrene sulphonate corresponding to 1.58 - 2.31 mmol calcium/g.
Sorbisterit Oral Suspension Side-effects
The following is a list of possible side-effects that may occur from all constituting ingredients of Sorbisterit Oral Suspension. This is not a comprehensive list. These side-effects are possible, but do not always occur.
Some of the side-effects may be rare but serious. Consult your doctor if you observe any of the following side-effects, especially if they do not go away.
Nausea
Vomiting
Constipation
Diarrhea
Muscle cramps
Loss of appetite
Gastric irritation
Allergic reaction
Gi disturbances
Hypercalcaemia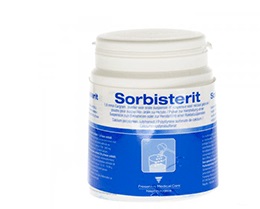 Precautions
Before using Sorbisterit Oral Suspension, inform your doctor about your current list of medications, over the counter products (e.g. vitamins, herbal supplements, etc.), allergies, pre-existing diseases, and current health conditions (e.g. pregnancy, upcoming surgery, etc.).
Some health conditions may make you more susceptible to the side-effects of the drug. Take as directed by your doctor or follow the direction printed on the product insert. Dosage is based on your condition. Tell your doctor if your condition persists or worsens. Important counseling points are listed below.
Do not give medication to newborns
Do not take a double dose to make up for the dose you have missed
Do not take more than the recommended dose
Do not use this medicine to treat any other ailments
Notify doctor if you have problems with constipation, kidney, heard, lungs, severe burns, are taking immunosuppressant, or are currently/wanting to become pregnant
Take the medicine exactly as prescribe
When not to use Sorbisterit Oral Suspension
Hypersensitivity to Sorbisterit Oral Suspension is a contraindication. In addition, Sorbisterit Oral Suspension should not be used if you have the following conditions:
Hypercalcemia associated conditions (Hyperparathyroidism, Multiple Myeloma, Metastatic carcinoma)
Hypersensitivity to calcium polystyrene sulfonate
Neonates
Obstructuve bowel disease
Serum potassim < 5mmol/L

PHOSPHORB
Phosphosorb 660 mg contains the active substance calcium acetate. It belongs to the group of phosphate binders and reduces the uptake of phosphate from the food. Phosphosorb 660 mg is used to treat an abnormally raised blood phosphate concentration in patients with chronic kidney impairment who are on dialysis.
Phosphosorb is used to treat hyperphosphatemia (too much phosphate in the blood) in patients with end stage kidney disease who are on dialysis. Phosphosorb works by binding with the phosphate in the food you eat, so that it is eliminated from the body without being absorbed. Phosphosorb is available only with your doctor's prescription.
Use Phosphosorb solution as directed by your doctor. Check the label on the medicine for exact dosing instructions.
Take Phosphosorb solution with meals.
Use a measuring device marked for medicine dosing. Ask your pharmacist for help if you are unsure of how to measure your dose.
Do not take Phosphosorb solution at the same time as a bisphosphonate (eg, alendronate), eltrombopag, estramustine, a quinolone (eg, ciprofloxacin), a tetracycline (eg, doxycycline), or a thyroid hormone (eg, levothyroxine). Talk to your doctor or pharmacist about how to separate these medicines from your dose of Phosphosorb solution.
If you miss a dose of Phosphosorb solution, take it as soon as possible. If it is almost time for your next dose, skip the missed dose and go back to your regular dosing schedule. Do not take 2 doses at once.
This medication is used to prevent or treat low blood calcium levels in people who do not get enough calcium from their diets. It may be used to treat conditions caused by low calcium levels such as bone loss (osteoporosis), weak bones (osteomalacia/rickets), decreased activity of the parathyroid gland (hypoparathyroidism), and a certain muscle disease (latent tetany).
It may also be used in certain patients to make sure they are getting enough calcium (e.g., women who are pregnant, nursing, or postmenopausal, people taking certain medications such as phenytoin, phenobarbital, or prednisone).