HAEMODIALYSIS EQUIPMENT
5008S Machine
The Pragmatic Approach to ONLINE HDF
ONLINE Haemodiafiltration (ONLINE HDF) is increasingly being recognised as the most advanced haemodialysis treatment modality that improves patient outcomes through a number of clinical advantages. These benefits indicate that ONLINE HDF induces less endothelial dysfunction, thereby facilitating Cardioprotective Haemodialysis.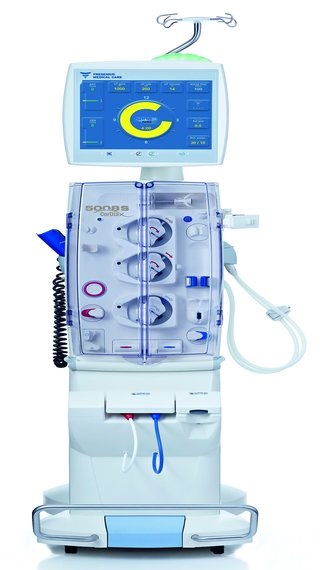 The cornerstones of the 5008S philosophy are the provision of:
Best therapy for your patients

Best handling for all users

Optimal use of resources
ONLINE HDF, particularly with large volumes of sterile replacement fluid, offers not only the most physiological
...
and efficient elimination of a broad range of small, medium-sized and large uremic toxins, but also improves patient outcome and Quality-of-Life through:
Better elimination of middle molecules

Greater haemodynamic stability

Less side-effects and intradialytic symptoms

Reduced Calcium-Phosphate-Product

Better anaemia control and reduced EPO requirements

Reduced inflammation and oxidative stress
Key Features
ONLINE Haemodiafiltration

ONLINE Priming

ONLINE Bolus

ONLINE Reinfusion

Centralised operation and information via a spacious touch screen interface.

"Intuitively correct" user guidance philosophy.

Blood Temperature Monitor (BTM)

Online Clearance Monitor (OCM®) of the 5008S provides completely automated dialysis efficiency control.

Ergonomic handling, e. g. one-handed connection of bibag®.

Seamless work-flow including multiple machine-assisted procedures.
Easy, rapid and safe data management via PatientCard or network (Therapy Data Management System – TDMS).
General data

Dimension 5008S

Dimensions 5008S 1,680 x 350 x 780 mm (H x W x D) at bed/dialysis chair level (width at base: 520 mm, depth with canister holder: 900 mm

Weight

approx. 100 kg

Monitor/Screen

15" high-resolution TFT LCD with touch screen user interface. Monitor rotatable around the 3 axes.

Water supply
Water inlet pressure
Water inlet temperature
Max. drain height
Flush

1.5 – 6.0 bar
5 – 30 °C; for "integrated hot rinse" 85 – 95 °C
1 m
Rinse of water supply area (option)

Concentrate supply
Supply pressure

Central supply

0 to 100 mbar; 1 m suction height with Central Delivery System: 0.05 to 2.0 bar
Central supply 1 central acid concentrate (option)

Electrical data
Power supply
Current consumption

100 to 240 V AC ± 10 %, 47 – 63 Hz
Approx. 6 A (at 230 V) at a water inlet
temperature of 17°C, Dialysate temperature 37 °C
Dialysate flow: 500 mL/min

External connections

Alarm output: potential free alarm outlet (alternating contact max. 24 V/24 W). LAN (RJ 45) port for data exchange with Therapy Data Management System/Finesse®
---
4008S Machine
The 4008S continues the success story of the well-known 4008 series, by combining best quality HD treatment, proven reliability and operational efficiency. 4008S has been developed to provide safety and efficiency for all important treatment modalities within the scope of renal replacement therapies. This includes:
Bicarbonate or acetate dialysis

Single-needle or single-needle click-clack

Ultrafiltration and sodium profiles

Isolated ultrafiltration / Bergström treatment
The automated acquisition, monitoring and control of specific patient and
...
machine parameters with the 4008S provide the operator with continuous and precise assessment of the current treatment situation. Features
Key features of the 4008S Next Generation include:
Monitoring of dialysis dose by OCM® (Online clearance monitoring and plasma sodium measurement)

Treatment with ultrapure dialysis fluid (DIASAFE® plus filter)

Use of hygienic, dry bicarbonate concentrate (Bibag®)

Single-needle method

Connection for central concentration delivery system (CDS)
In addition, the following therapeutic tools are available:
Blood pressure monitor (BPM)

Easy data management with patient card (offline) or network integration (online)

General data

Dimensions 4008S

1370 x 500 x 650 mm (H x W x D) (including shunt interlock and pedestal)

Weight

approx. 86 kg

Water supply

Water inlet pressure

1.5 to 6.0 bar

Water inlet temperature

5°C to 30°C; for "integrated hot rinse" 85°C to 95°C

Max. drain height

1 m

Concentrate supply

Supply pressure

0 to 100 mbar; 1 m max. suction height

Central supply

1 central acid concentrate (optional) 0 to 500 mbar

Electrical data

Power supply

100 to 240 V AC, 50 to 60 Hz

Current consumption

Approx. 9 A (at 230 V) and 15 A (at 110 V)

External connections

Network interface for data exchange with Therapy Data Management System (optional); input/output for connection of external auxiliary equipment; alarm input/output (e.g. for nurse call); diagnosis for in-house computer diagnosis

Battery

18 V; 3 Ah (maintenance free)
---
MULTIFILTRATE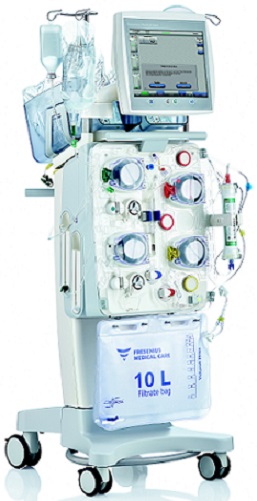 The Multifiltrate System
: Your choice for optimal acute therapy.
The multiFiltrate System is easy to operate and flexible in therapy: your reliable partner for continuous renal replacement therapy. The multiFiltrate product range includes kits that meet your needs for:
...
Continuous venovenous haemofiltration (CVVH)

Pre-Post Continuous venovenous haemofiltration (Pre-Post CVVH)

Continuous venovenous haemodialysis (CVVHD)

Continuous venovenous haemodialysis (CVVHD EMiC®2)

Continuous venovenous haemodialysis with citrate anticoagulation (Ci-Ca® CVVHD)

Continuous venovenous haemodialysis with citrate anticoagulation and Ultraflux® EMiC® (Ci-Ca® CVVHD EMiC®2)

continuous venovenous haemodiafiltration (CVVHDF)

Membrane plasma separation (MPS)

Haemoperfusion (HP)

Slow continuous ultrafiltration (SCUF)
Features:
User-friendly operating concept with self-explanatory menu guides.

Fully-integrated citrate anticoagulation management makes especially long and heparin-free dialysis treatment possible.
Special therapy options are available for paediatric intensive care units:
Continuous venovenous haemodialysis in paediatrics (paed CVVHD)

Continuous venovenous haemofiltration in paediatrics (paed CVVH)
Even very small patients can be treated safely thanks to reduced-volume disposables and adapted treatment settings.
Easy data management with patient card (offline) or network integration (online)

General data

Dimensions and weight

Height

175 cm

Width

55 cm

Depth

60 cm

Weight

approx. 100 kg

Electrical Supply

Voltage

100/120//230/240 V AC +- 10 %, 50/60 Hz

Current consumption

3.2 A (230 V)

Lead Acid Battery

18 V/3.4 Ah (maintenance free)

Emergency operation duration

about 15 min

Electrical Safety

Type of protection
against electrical shock

Protection Class I

Level of protection
against electrical shock

Type CF (100 – 240 V, 50 Hz)
---
Mobile dialysis